I took my sister to Romford on Friday and picked up these goodies!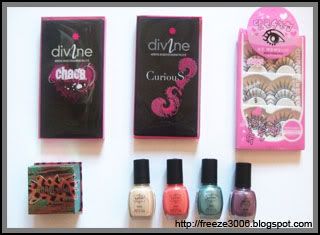 Some NYX nail polishes, two Sleek palettes (Chaos, and the limited edition Curious), BeneFit Coralista blush which I've been after for quite a while (I didn't actually buy this, explain later ;D), and some cute Asian brand false lashes. I have no idea what they actually are 'cause I can't read it XD but I've never tried false lashes before and they were pretty cheap (£4 for six pairs) so I thought they'd be ideal to try out. :)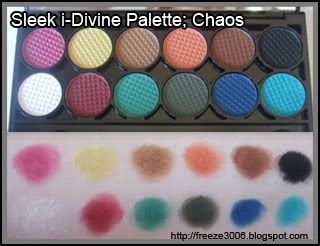 I don't know of anyone who's tried a Sleek palette and hasn't loved it. I really liked the look of the colours in the Chaos palette but I was a little wary because they're all mattes. I was wary because I got the Jewels palette a couple of months ago and the couple of matte shadows in it were quite poorly pigmented compared to the shimmers, but I thought I'd give Chaos a go anyway. I'm glad I did and I can't wait to play around with it and come up with some looks.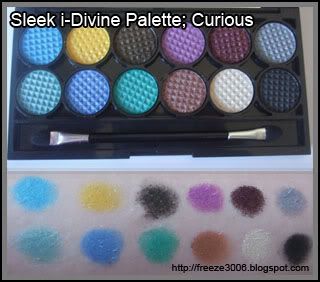 I couldn't not get the Curious palette, wouldn't want to pass up a limited edition that the beauty bloggerati are raving about! Again, I can't get over how amazing the i-Divine palettes are for the price, just goes to show make-up snobbery can really make people miss out on brilliant stuff. I do think they put too many blue-green tones in this one though. I read a post on someone's blog about this palette a few days ago (can't remember who, sorry!) and they said it would fare better with a shadw or two of pink instead of four blue-greens and I definitely agree! I have an FOTD with this palette at the end of the post. :)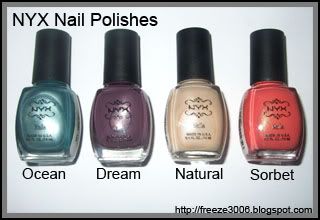 Came across a market stall selling these NYX polishes; whenever I find a little shop or market stall selling NYX I can't say no 'cause it's so hard to come by in the UK. I picked up four at £1.50 each. I haven't tried them out yet but they look promising, although I can imagine they'll need a fair few coats to become opaque. I'm particularly looking forward to using Sorbet, I haven't got any other colours like that.

I couldn't be bothered with taking seperate pictures of Coralista or the lashes I got. First impressions of Coralista = BRILLIANT. I've wanted it for ages now but couldn't come up with a good justification for spending £22.50 on a blush but I got lucky - my nan bought it for herself but decided her skin was too sensitive for it and passed it on to me. SWEET ;D. Haven't tried the lashes yet, but I'll let you know of course. ^_^;




This is how my nails are done at the moment, haha. Cute, right? ;D I painted them in Hoola Hoop from Collection 2000's Hot Look collection, then later on whilst looking through my cupboard for something I came across an old glittery Avon top coat my mum gave me a few years ago and I thought it might be fun to give it a go. In a way it looks so childish and tacky but I think that's why I love it. :D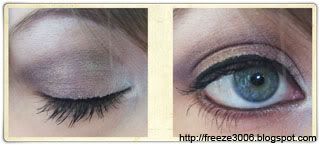 And here's today's FOTD. Obviously top picture is in natural light, and bottom one is with flash. In case you can't tell, I'm OBSESSED with nude lips at the moment.

Proucts Used

:: Maybelline Dream Satin Liquid (010 Ivory)
:: Rimmel Stay Matte Pressed Powder (005 Silky Beige)
:: Benefit Coralista blush
:: UDPP (Sin)
:: Sleek i-Divine Palette (Curious)
:: Rimmel Special Eyes kohl pencil (161 Black Magic)
:: Collection 2000 Fast Stroke liquid liner (Black)
:: 17 Va Va Voom Volume mascara (Black)
:: NYX Round Lipstick (Circe)
:: Illamasqua Intense Lipgloss (Absorb)

As for the shadows I used from the Curious palette: The creamy gold colour, second from the right on the bottom row. I used this on the inner corners, the inner part of the lower lashline, and later on as a brow highlight. I used the colour to the left of that over the rest of the lid up to the crease. The burgundy sort of colour above the creamy gold was blended into the crease and smudged along the lower lashline. :)

Hope you like! xo