"Yknow what?" I mused earlier, on Twitter. "I haven't had a really good play with my makeup in so long. I think that's why I'm feeling so uninspired. I've gotten into a boring rut of doing the same look every morning and just occasionally changing colours. Need to sort this the hell out!" 'Cept obviously that was divided into two parts owing to the 140 character limit ;P



Within a few minutes I'd received replies from Sian, Phoebe and Lisa Kate who all confessed to being stuck in the same rut as me. So I set us a little challenge - to dive in and do something different to what we've been doing lately. I don't know if the other girls will actually get around to doing it :) haha but I was so bored I just cracked straight on.



I really needed to kick myself up the backside by doing this; I feel my blog's been lacking a bit lately 'cause I find I need new stuff for motivation and being on my make-up buying ban made me feel like I couldn't get inspired by makeup. But you'll never guess what I ended up digging out to create this look - my 120 palette! I haven't touched it in about 6 months *hangs head in shame* and in those 6 months I've accumulated probably more than 120 more eyeshadows. It's ridiculous, really. But I forgot how useful and pigmented the 120 palette is. I shall now consider it as a rediscovered and reloved item!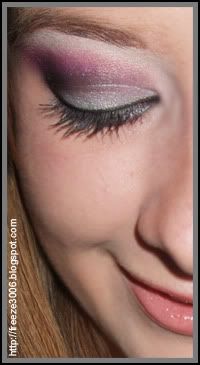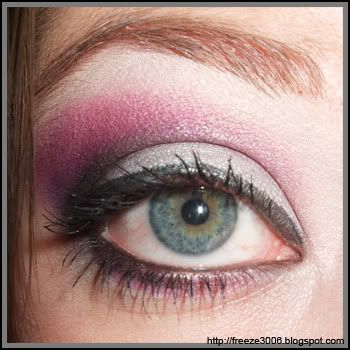 So here's what I did:



I started off with NYX Jumbo Pencil in Milk as a base (I didn't bother with UDPP since it's late and I didn't need this to be long lasting, I was just having a play around). Then I took a silver shadow from the 120 palette and patted it all over my lid. I decided to go with matte colours for the crease as playing with different textures in the same look is something I rarely do. I went for a deep matte purple applied with a pencil brush in the outer V and outer 2/3 of the crease, then took a fluffy dome brush to blend this out really well. Using the same fluffy brush, I picked up some matte hot pink and blended this with and above the purple. I went back and forth with these colours, blending as I went, until I'd built up a colour intensity and blended finish that I was satisfied with. A touch of matte ivory shadow on the browbone served as a highlight. I figured I'd keep the rest simple yet impactful: a reasonably thick line on the upper lid with Maybelline Line Definer felt tip, and Rimmel SpecialEyes kohl (Black Magic) for tightlining upper and lower waterlines, and smudged across the bottom lashline. I curled my lashes and applied one coat of Maybelline Lash Stiletto, followed by one coat of Eyeko mascara (with regards to my recent review - I've found Eyeko mascara works much nicer layered over Lash Stiletto than it does with two coats by itself!). I wasss gonna use Illamasqua Static pigment over the shadows in this for sparkle but I thought it would work better matte. I also decided against false lashes in the end - didn't wanna go too overboard! I filled in my brows with No7 Beautiful Brows pencil, they were looking pretty pale next to the dark eyeshadow! As for the face, I just slapped on my usual Revlon Colorstay and a tiny touch of Benefit Coralista before I started messing around with my eyes. I opted to keep the lips simple, and just went for Maybelline Superstay Gloss in Satin Glow - pretty much an MLBB product for me.



So, there's my different-from-usual-trying-to-challenge-myself-a-bit look! What do you reckon? Be brutally honest with me ;D



***








In other news! I've been tagged by Claire from Adorning and Shifa from Get Gawjus to do this Beautiful Blogger award. Daww, thanks! ^_^;



This is another random facts one - this time it asks for 7 random facts. I'll try not to repeat anything I've said before, and I'll also try not to be too boring!



1. I go through phases of what I do with my spare time, it changes frequently. Right now I'm spending too much time playing Left4Dead online with my boyfriend - for those of you who don't know, it's a first person shooter where you pretty much just kill zombies. It's fun ;D and for those of you who DO know and actually play it (please say SOMEONE does!), my SteamID is donotrefreeze, feel free to add and we can shoot zombies together <3>

2. I change my nail polish on an almost daily basis. The only time in recent months that I've gone more than a day wearing the same polish is last week when I was really ill and just couldn't be arsed.

3. I love crime fiction. My favourite author of that genre is Karin Slaughter. Anyone read any of her books? Fractured is probably my favourite one.

4. I'm 18, yet I don't actually have ANY ID to prove that XD well, I've got my birth certificate but that's literally it. The only driving 'lessons' I've had are with my mum on private land so I've not got a provisional license, and I've never been abroad so I haven't got a passport. Sad state of affairs to be in! D:

5. I am SO IMPATIENT when it comes to waiting for packages. This isn't really a random fact at all, I just want to whinge about it! Haha.

6. I'm on Jobseeker's Allowance. When I first signed on I always intended to keep that on the DL 'cause I was ashamed. But now I've decided it's a good indication of the state this country's economy is in right now - I'm a bright, intelligent, enthusiastic young woman with plenty of qualifications but I haven't been able to find a job in over 4 months. Sad :(

7. The last part of number 6 was a lie - There's a new coffee shop opening in my town soon and I've been hired to work there for 6 hours on a sunday. But I still get JSA as it's less than 16 hours a week. Pssshhh.





That was TOTALLY boring wasn't it? XD I'm going to be a complete hypocrite right now and say, anyone who wants to do this can do it. I'm too tired right now to pick out 7 people who I haven't tagged before and honestly I think all your blogs are great otherwise I wouldn't be following them! Just do it if you wanna <3>