Nothing like a good tag to give me a little nudge back into the swing of blogging, so thanks to Jo @ All Things Beautiful and Paula @ Sweetcheeks Beauty and Fashion for tagging me with this one!

Rules are simple, just list your most worn: 1) Lipstick/lipgloss 2) Earrings 3) Shirt 4) Nail polish 5) Shoes 6) Hair product 7) Perfume 8) Handbag/purse, then tag five people. Let's roll ;D

1) Most worn lipstick and lipgloss



Maybelline Color Sensational lipstick (420 Coral Pop) and Maybelline Watershine Gloss (103 Crystal Rocks)

I'm a sucker for a nude lip, but recently I've found myself reaching for these ones a lot. Throughout the summer my go-to lip combo was Natural Collection moisture shine lipstick in Apple Blossom with Illamasqua Intense Lipgloss in Absorb, and I'm finding it hard to leap straight from nude lips to dark lips! So, I'm transitioning slowly between the two with this gorgeous coral. The Color Sensational lippies are very strong colours so I blot this with a tissue a couple of times to tone it down a little but I'm loving this combination at the moment - looks great with a simple eye look of just liner and mascara!

2) Most worn earrings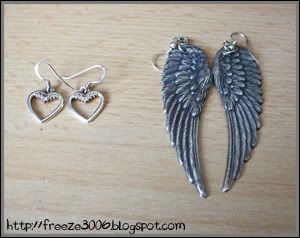 Angel wing earrings from LoveHeartsAndCrosses, and heart earrings from Colin - no idea where!

I heard of LH&C through Jools, in fact I believe she has these earrings too. The hearts were a present from Colin on Valentine's Day ^_^ I haven't got a good picture of me wearing either of these pairs, but I pretty much just circulate these two. As you can tell by the size difference, I generally wear the hearts when I need everything to be very toned down but the rest of the time I'll chuck in the angel wings ;D I had a look through LH&C's website and it looks like they don't sell that particular silver pair anymore but if you like gold jewellery, they still do the gold pair!

3) Most worn shirt



H&M shirt dress

Yeah, I recycled an old pic 'cause I can't be arsed with taking a new one. ^_^ But I love this shirt. I think this was £19.99

4) Most worn nail polish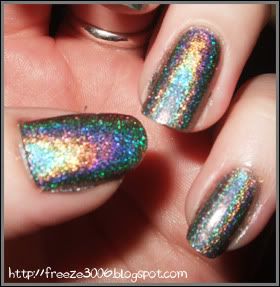 China Glaze: Let's Do It In 3D

In case you hadn't noticed, I'm obsessed with nail polish and change it on almost a daily basis. But since receiving my package from Brooke I've put this one on SO many times! Look at the usage already, haha. It's such an amazing polish but of course the only downside with holo polishes is that you can't use a top coat with them which makes them prone to chipping. Pah! And sorry for the blurry picture but blur helps capture the sparkle in this so much better.

5) Most worn shoes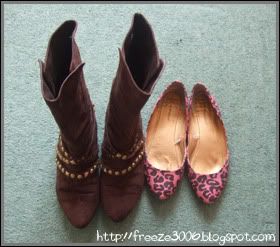 Yay for Primark ;D

Got both of these when the fella took me shopping on my birthday in August. I can't resist flats from Primark, haha. I wear these two the most depending on the weather :) although I've fallen back in love with my tatty old Converses in the last few weeks too :3

6) Most wornused hair product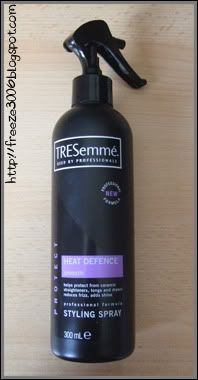 Tresemmè Heat Defense Styling Spray

I'm really NOT adventurous with my hair. I never do anything with it, just straighten and go. I've been using this stuff for yearsss, probably the only reason I haven't burnt my entire head of hair off yet! I'm not the best person to talk to about hair stuff, I don't really have a clue ^_^;

7) Most worn perfume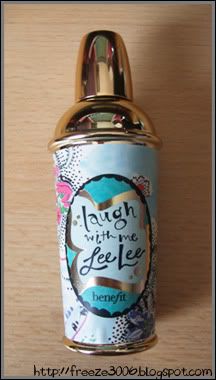 BeneFit Laugh With Me Leelee

I loved the awesome coincidence that the only BeneFit Crescent Row fragrance I really liked was the one called Leelee ;P I wear this pretty much every day. I'm not good at picking out particular notes in perfumes but it's a glorious mix of fruity (citrus fruity, not sickly sweet fruity) and floral, I'm quite positive I can smell jasmine in it. Yum yum!

8) Most worncarried handbaghuge bag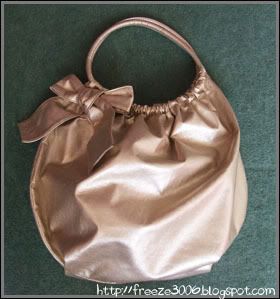 Another Primark-er!

I used to use this bag at college, but I still haven't gotten out of the habit of lugging around a lot more stuff than I actually need at any given time. I never carry small bags 'cause I'm a pretty chubby girl, I feel like I look ridiculous with a handbag haha. Big bags help make me feel smaller, and assist in the carrying of miscellaneous clutter!




That was kinda fun :) I never really think about anything 'cept makeup and nail polish! Okay uhm, I taaag...

1) Jools (Foshoozley) - because you REALLY need a kick up the arse to start blogging more, girly! If you don't do this one, I'm totally never tagging you for anything ever again. That's a promise, not a threat! ;P
2) Shannon (Beautifulbrunette714) - Shannon's a new blogger, and I know tags are a good way of feeling welcome! :D
3) Nikki (Visual Aspect '87) - Gorgeous mum-to-be, she tagged me for the beautiful blogger award but I've already done it! :(
4) Eliza (Makeup Junkie) - I'd love to see some of her favourites, we often seem to like similar products and colours!
5) Nefertari (Nefertari's Sparkles) - I love reading tags she does, so I'll fuel it with another one! ;P

Look out for some Illamasqua swatches later on today!