Okay so I was excited as hell when I heard NYX was to become readily available in the UK - we all were, right? I expected it would have stands in Superdrug and Boots or something, but it appears that it's only going to be available online here, at NYX Cosmetics Europe. What the what? D< (Also, please just indulge me whilst I tell you how much I HATE the picture on the 'eyes' page - what a shit job! The blending is horrible, looks like they've just chucked on a loose silver eyeshadow in the inner corners and left it there to clump up. Ugh!) Those of us who buy/have bought NYX in the UK and Europe just buy it online, so WHY in the name of arse would we get it from this site at the prices it's selling at? Let's make a brief shopping list of some popular items that we might want to grab.


Bear in mind Nyxcosmeticseurope.com doesn't have any indication of how much shipping will cost (it's not up and running yet, so no poor fools have been conned out of wads of cash just yet - I'm certainly gonna be boycotting). I'm gonna guess shipping will cost about £3-5? But since I don't know for sure, I won't be including shipping prices in this comparison. I do know that on shopcraze.com, the site I will be comparing to, the shipping to UK for purchases under $25 costs $6.95 which is about £4.20.

Now... how much would it cost us to buy these items from the Europe website?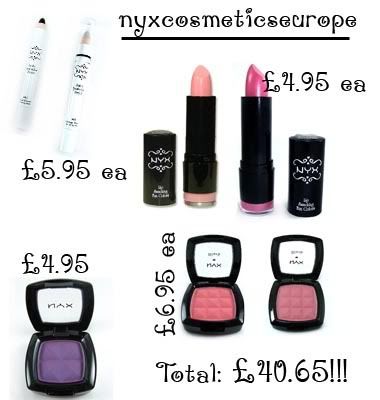 ..Ouch. That's a bit of a kick in the purse. What REALLY grates on my nerves is they say these prices are the 'RRP'.. clearly not =/ The USA and Canada pay nowhere NEAR as much as that. For those of you on the other side of the pond, to give you an idea - £40.65 in dollars is $66.83 at the current exchange rate. Would you pay $66 for this handful of NYX items? Of course you bloody wouldn't! Grrr.

On the other hand, let's see how much this would cost to buy from shopcraze.com - I've used this site for NYX before and had excellent service, and shipping took about 10 days.




I think that pretty much sums it up, right? $24.95 is about £15.20. MUCH better!

I'm just really annoyed that they're trying to rip us off. Do they think we're stupid enough to pay those prices? D<

What do you think to all this?